AT HOME IN BOX HILL
Box Hill is located approximately 14km from Melbourne's CBD. It boasts superb
access to the Dandenong Ranges, Westfield Doncaster, Chadstone Shopping
Centre and world-class health and educational facilities.
BOX HILL GARDENS
Perfectly situated in the coveted
Box Hill Gardens Precinct.
BOX HILL HIGH SCHOOL
Surrounded by a choice of primary,
secondary and tertiary education.
BOX HILL RECREATION
Walking distance to fitness tracks,
recreational facilities and clubs.
BOX HILL CENTRAL
Famous for its vibrant fresh produce
markets and it's emerging café culture.
BOX HILL IS A WALKERS
PARADISE. SCORING 95/100,
DAILY ERRANDS DO NOT
REQUIRE A CAR*
*Source: walkscore.com (Bruce Street, Box Hill)
DISCOVER YOUR
LOCAL NEIGHBOURHOOD
A HEALTHY LIFESTYLE
1.
Box Hill Gardens
2.
Celestial Tai Chi College
3.
Box Hill Golf Course
4.
Aqualink (aquatic, health and fitness centre)
5.
Box Hill Indoor Sports
6.
Box Hill Public Hospital
7.
Epworth Eastern Private Hospital
8.
Eastern Health Community Centre
CULINARY CULTURE
9.
Dainty Sichuan
10.
SOKO Korean Charcoal BBQ
11.
Dumpling King
12.
Tien Dat
13.
Kitchen Republik
14.
Second Chapter Café and Bar
15.
The Penny Drop Café
16.
Hokkaido Baked Cheese Tart
RETAIL AND MARKETS
17.
Box Hill Central
18.
Fresh Food Market: Box Hill Central
19.
Cinemas: Westfield Doncaster 4.2km
20.
Forest Hill Chase Shopping Centre
21.
Dining: Station Street, Restaurant Precinct
22.
Westfield Doncaster
WORLD CLASS EDUCATION
23.
Deakin University Burwood Campus
24.
Box Hill Institute
25.
Mont Albert Primary School
26.
Box Hill High School
27.
Box Hill Senior Secondary College
28.
Our Lady of Sion College
29.
Fintona Girls School
30.
Camberwell Girls Grammar
31.
Camberwell Grammar
32.
Presbyterian Ladies College
BOX HILL URBIS REPORT
Make an informed investment decision, download the link below for the most up-to-date information on how the Box Hill market is performing.
THE EASTERN ASPECT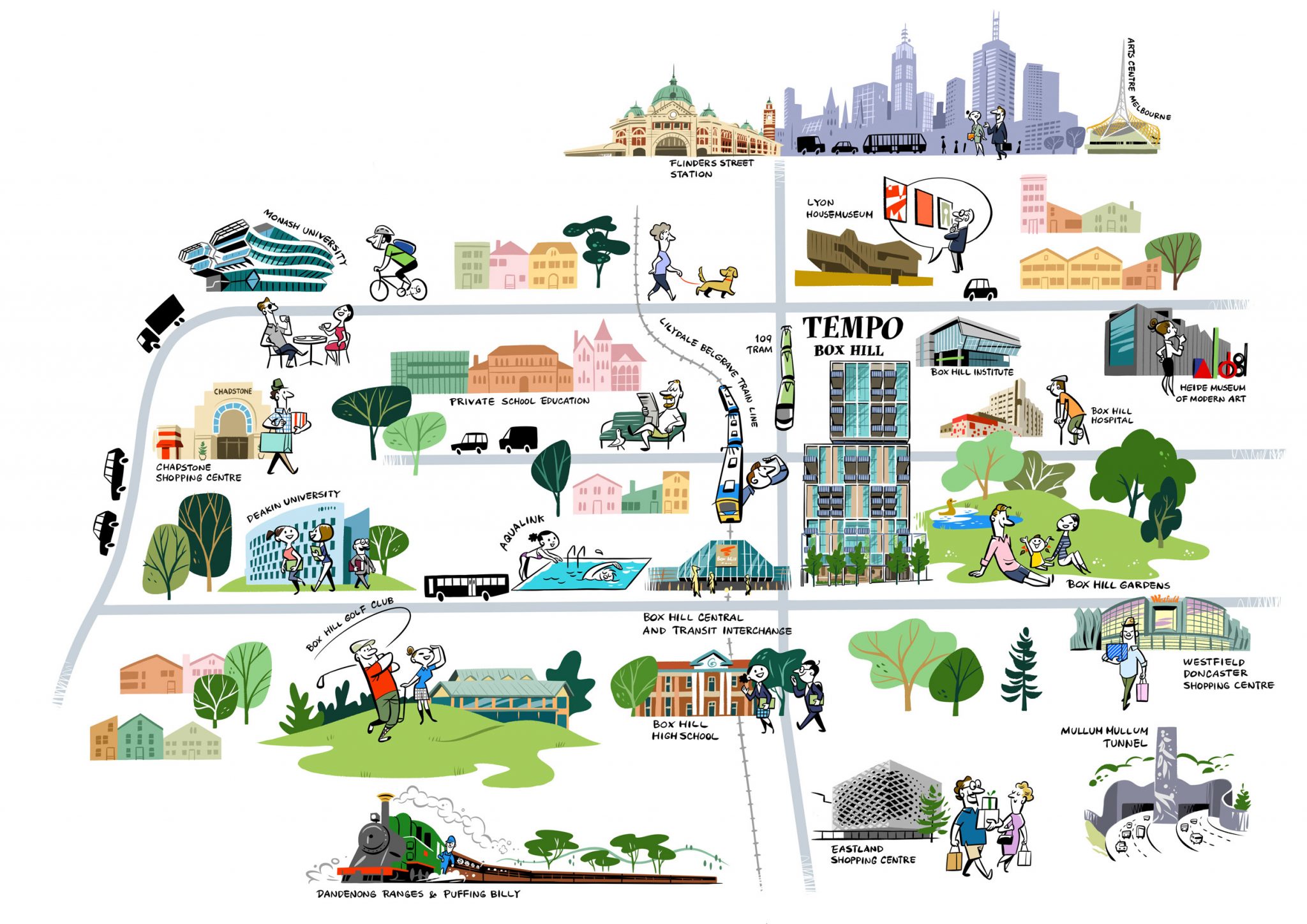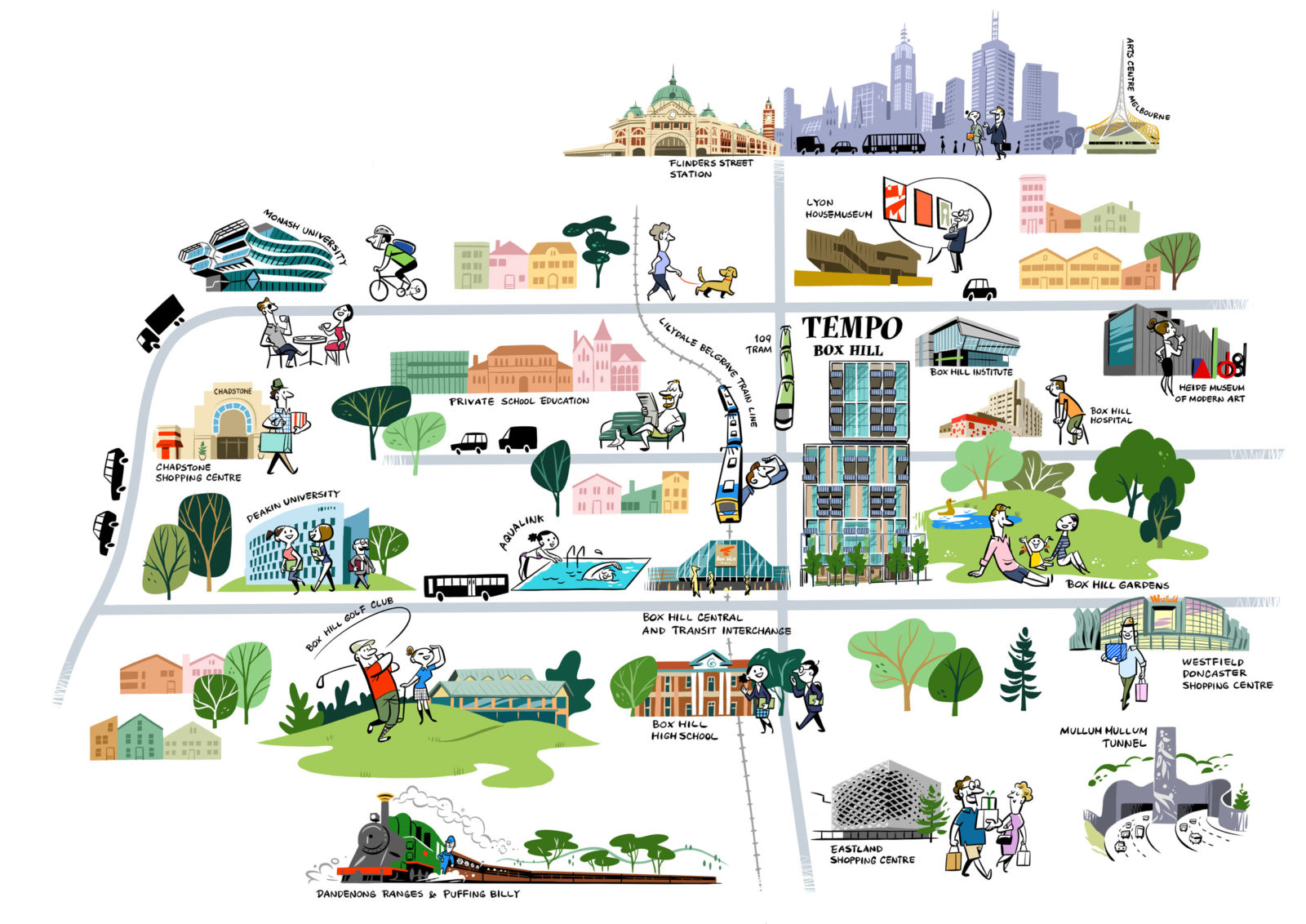 DISPLAY SUITE OPEN DAILY FROM 10AM TO 5PM.
As metropolitan Melbourne moves to the third step toward COVID-19 normal, we have updated and implemented COVIDSafe protocols.
The team at Tempo Box Hill follow all public health guidance, and as a precautionary measure we will respectfully avoid shaking hands. Hand sanitiser will be provided and we also request that you wear an approved face covering and maintain physical distancing by keeping 1.5m away from others.
If you feel unwell, or are experiencing fever, coughing or difficulty breathing, please do not visit the display.  Simply contact the sales team on 1300 137 590 and we will make alternative arrangements.